Luxurious Wood Look Tile in Appleton, WI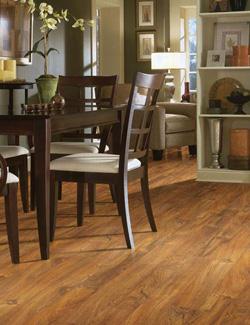 Have you always wanted the look of natural hardwood, but been put off by the possibility of constant upkeep and its low resistance to moisture? Do you have hardwood floors already, but want to expand the same style to rooms that aren't typically recommended for the material. D & M Interiors Inc. has the right solution for your situation.
Our wood look tile in Appleton, WI, is the premier option for homeowners who want the quality and class of authentic wood without its usual drawbacks. Made of either porcelain or ceramic, this material creates a distinctive appeal that gives your space more character and sets a strong foundation for future or current décor.

Selecting the Right Solution
We pride ourselves on being a singularly reliable supplier that our customers can count on for the best in modern flooring. To that end, we carry both of the popular options for emulated wood tile, giving you the freedom to shop your way. However, it's important to understand exactly what you're looking for in our showroom -- and what you're looking at.
Benefits of Porcelain
-- Wood plank porcelain tile is the premium product you need if you're interested in adding flair through flooring in high-moisture and high-traffic areas of your house. These can include everything from a foyer to your bathroom, and no matter where you place it, our porcelain provides the pristine look you need. Its advantages include:
Superior Durability
Exceptional Water Resistance
Solid, Full-Color Manufacturing
Reasons to Choose Quality Ceramic
-- Though less expensive than its porcelain counterpart, ceramic tiles are by no means less valuable. They are the right option when you need versatile design and a streamlined installation experience. Since our porcelain wood tile is easy to cut, you can accomplish complex flooring jobs with minimal stress. It's relatively lower price point also allows you to do more for less, making it perfect for sprawling renovations.

Full-Service Shopping Support
Investing in top-notch tile requires a wealth of information. If you want to make sure you're fully equipped to make the best possible selection for your project, the best place to go is our showroom. Our team members will guide you through product comparisons and provide insight into the unique needs of your space.
We can even help you explore in-store alternatives for a wood-like look, such as luxury vinyl. From ceramic wood tile to comfortable carpet, you can find it all at D & M Interiors Inc.


Contact us now to discuss your design options with our seasoned flooring professionals. We proudly serve Appleton, Menasha, Neenah, Oshkosh, and Fond du Lac, Wisconsin, as well as the surrounding areas.