Tile Flooring in Appleton, WI
When it's time for a flooring replacement in your home or business, rely on D & M Interiors to help transform your space. Our tile flooring makes it possible for you to have attractive floors at a reasonable cost. Whether you imagine large granite tile for your company's entryway or you want an intricate mosaic in your home bathroom, we can ensure you will find the ideal tile floors to suit your needs in appearance, performance, and price.
From ceramic to stone and porcelain tiles, you can upgrade walls, showers, floors, and even outdoor spaces such as patios and walkways from our tile collection. Stop by our Appleton, Wisconsin, showroom to browse through an array of tile flooring options in many different styles, patterns, and colors today!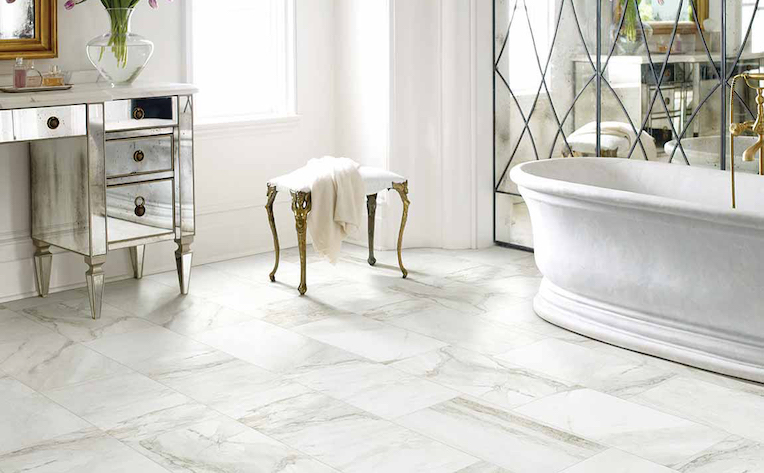 Types of Tile Flooring Available at Our Local Store
The team of flooring specialists at our store is pleased to help you navigate the showroom full of tile flooring options. We listen to your preferences, consider your budget, and sift through your options. Our flooring experts have in-depth knowledge of all the different tile flooring options. We also have expertise in interior design. You can bring your interior design ideas to our store and we will help you select a style and color that perfectly suits your aesthetic preferences. Our stocked showroom is sure to exceed your expectations with numerous selections of tiling in ceramic, porcelain, and stone.
Ceramic Tile Flooring
Ceramic tile is strong and extremely resistant to absorbing water, stains, spills, and dents. Using a kiln oven, the earth's natural clay is heated and cooled, with the ability to be cut and designed in many different colors and shapes.
Porcelain Tile Flooring
Porcelain tile offers many of the same benefits as ceramic, but the material is denser and has a stronger surface. Due to the process of manufacturing porcelain tile, it is slightly more expensive than its ceramic counterpart. Porcelain is exquisite in the bathroom, offering an elegant appeal and extreme durability.
Stone Tile Flooring
Slate and stone tiles have been a popular choice for homeowners and businesses for many centuries. What sets stone and slate tiles apart is that they are not manufactured but rather extracted directly from the earth, making them unique and environmentally connected choices. It is naturally resistant to heavy impacts, moisture, heat, and extreme stress. While the variety of colors available is limited to what nature provides, the inherent beauty of slate makes it a versatile option that complements various styles and designs. Maintaining slate tiles is easy, and they are known for their long-lasting performance.
Although slate tiles may be more expensive than other tile options, their durability and resale value make them a worthwhile investment. Stone and slate tiles are suitable for both indoor and outdoor use, lending a natural and rustic appearance to your home or landscaping. They come in warm and inviting colors like blue, gray, orange, gold, and green.
Wood-look Tile Flooring
Have you always wanted the look of natural hardwood, but have been put off by the burden of constant upkeep and its low resistance to moisture? Do you have hardwood floors already, but want to expand the same style to rooms that aren't typically recommended for the material? D&M Interiors has the right solution for your situation. Our wood-look tile in Appleton, WI, is the premier option for homeowners who want the quality and class of authentic wood without worry of moisture damage.
Made of either porcelain or ceramic, this material creates a distinctive appeal that gives your space more character and sets a strong foundation for future or current décor. Whether you want to place a wood-look floor in your home for the first time or hope to match existing wood in other rooms of the home, we can provide a flooring solution for any space. From the rich hues of maple and mahogany to the lighter shades of birch and oak, our wood-look tile can beautifully authenticate the whirls, knots, grains, and patterns of true hardwood flooring.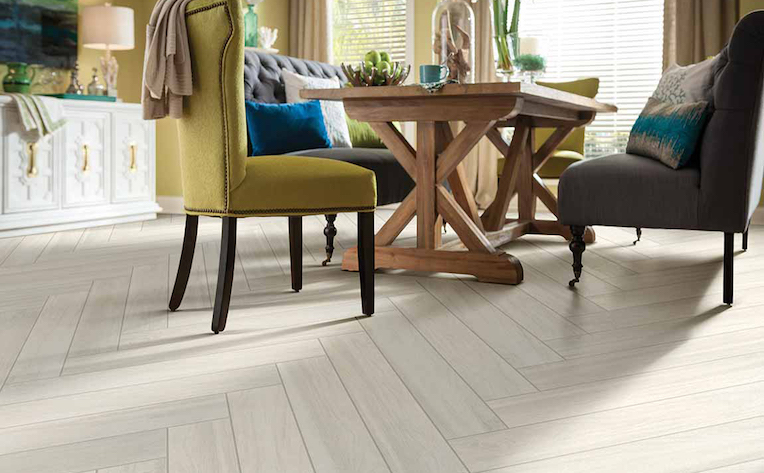 Tile Products for All Your Home Improvement Needs
Looking for a variety of tiles to create a custom look in your home? D & M Interiors offers more than floor tiles, with a variety of tile products including:
Accent Walls
Backsplashes
Fireplaces
Large Format Tiles
Mosaic Tiles
Tile Showers
Tub Surrounds
Zellige Tiles
Benefits of Tile Flooring
For hundreds of years, tile flooring has been a stylish and practical floor material because of its many valuable qualities. From its low maintenance and long-lasting durability to its elegant appeal, our Wisconsin customers love tile, especially active households with pets and children. Available in numerous shapes and sizes, we carry top-quality tile brands including Daltile, Spotlight Values, Marazzi, and more! Discover all the benefits of choosing tile floors:
Eco-Friendly
Easy to Clean
Spill-Resistant
Stain-Resistant
Great for High Traffic Areas
Easy on Allergy Sufferers
Priced Fairly for All Budgets
Not Sensitive to Humidity or Temperature Changes
Compatible with Heated Flooring Systems like Schluter Ditra Heat
Professional Tile Flooring Installation Services
Once you have selected the right tile flooring for your home, schedule an appointment with our team for a professional tile flooring installation. This flooring requires the use of professional-grade equipment to cut the tiles evenly. Let us handle your tile flooring installation while you reap the benefits of having new flooring at a budget-friendly price. You are sure to be satisfied with how your new tile fits in seamlessly with the rooms in your home, immediately enhancing their appearance while increasing the overall value of your property.
All of our flooring installations are backed by our Adore Your Floor Guarantee. This warranty system gives you financial protection and peace of mind when installing new tile floors. If you are not satisfied with your new flooring, we will replace it at no charge to you.

Contact us today to learn more about our tile flooring options! We proudly serve Appleton, Wisconsin, as well as all communities in the Fox Valley & Green Bay area.