Laminate Flooring in Appleton, WI
When you want durable and attractive flooring, our laminate flooring selection at D&M Interiors is the perfect solution for you. Thanks to a design layer in its makeup, laminate flooring can emulate the appearance of natural stone or hardwood. That means you can save money by installing our budget-friendly laminate flooring while getting the high-end look you want for your property. Visit our showroom in Appleton, WI, today to chat with an in-house design specialist, or browse our online catalog to get started!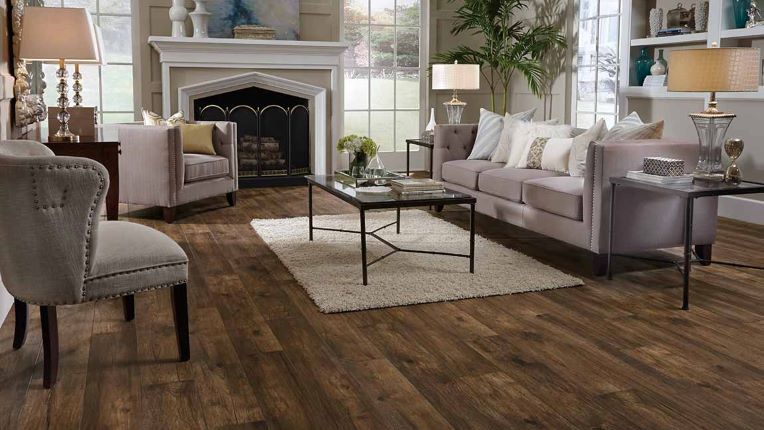 What is Laminate Flooring?
Laminate differs from other flooring types of the four layers that make up the finished product. The base and core layers, which provide density for withstanding foot traffic and placement over the subfloor, are the first to be installed. Next, using modern technology, any replica image can be applied to the decorative layer. Finally, the wear layer protects the picture and the rest of the floor from stains and damage.
How is Laminate Flooring Made?
Laminate flooring is created with either a direct or high-pressure process to give your home charm and durability:
The high-pressure method fuses individual layers for increased density. This is a popular method for commercial properties that expect a lot of foot traffic.
On the other hand, the direct-pressure method produces standard laminate alternatives for homes and common spaces.
What Types of Laminate Do You Carry?
Active Wisconsin households require flooring that protects against wear and tear while being aesthetically appealing. Laminate flooring is a beautiful enhancement for any property, without the cost and maintenance of more pricey flooring products. Whether you want the look of oak hardwood or marble tile, a laminate flooring installation from our professionals will give you the high-class look you want with the durability and price you need. Learn more about our laminate flooring selection:
Laminate Wood Flooring: If you dream of beautiful oak floors but your lifestyle and budget are incompatible, wood laminate flooring is the perfect substitute. This flooring combines the look and feel of natural wood with all the benefits of laminate flooring.
Laminate Tile Flooring: While traditional tile flooring is an elegant addition to any project, many customers find tile laminate flooring better meets their budget and functional needs. Tile laminate is a popular choice for bathrooms, offering the tile aesthetic with a waterproof & scratch-proof seal.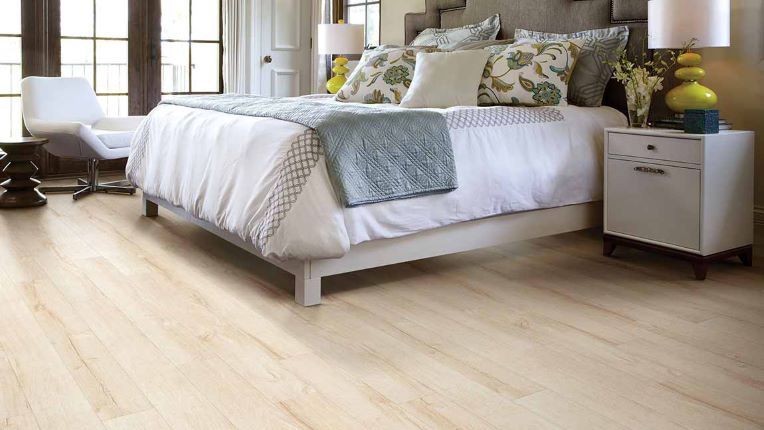 Laminate Flooring's Many Benefits
The benefits of laminate flooring are nearly endless. Laminate has become a favorite among our Appleton customers as an impressive and convincing alternative to high-end floorings such as hardwood and tile. We only carry laminate flooring from the best brands and manufacturers in the industry, so you don't have to worry. These laminate brands include Mohawk, Mannington, Shaw Floors, Floorcraft, and more. Our top-quality laminate flooring offers the following advantages:
Manufactured to be highly durable and resilient.
Hygienic with easy cleaning and maintenance.
Realistically mimics hardwood and tile.
Scratch and water-resistant.
Affordable and less expensive than its traditional alternatives.
Comes in a variety of styles and colors.
What is the Difference Between Laminate Flooring and Luxury Vinyl Flooring?
When deciding between laminate and luxury vinyl flooring for your Appleton, WI home, it's important to understand the differences between the two options. Both types of flooring have four layers, but what sets them apart is the core material they use.
Laminate flooring has a core made from wood byproducts. This core provides some resistance to water, but it's not completely waterproof throughout the entire plank.
On the other hand, luxury vinyl flooring has a waterproof rigid core, making it an excellent choice for areas with high moisture levels, which can be quite common in our region.
Price is another factor to consider. Generally, laminate flooring tends to be more budget-friendly compared to luxury vinyl. However, both options can enhance the look and functionality of your home. Our knowledgeable team is here to assist you in determining which type of flooring is the best fit for your specific project needs and lifestyle preferences in Appleton, WI.

Laminate Flooring Installations with Local Appleton Installers
You just found and purchased your favorite laminate floors. Now, who's going to install it? Instead of spending time and resources looking for a qualified installer, take advantage of our professional laminate flooring installation service. Our flooring contractors have the skills and experience to properly install laminate floors in your home for gorgeous results that stand the test of time.

In addition, we guarantee the quality of our products and services. If you are unhappy with your new floors for any reason, just call us within 30 days of your installation. We'll replace it with flooring of equal value. That is our Adore Your Floor Guarantee! Enjoy fast, affordable, professional flooring installation that ensures your complete satisfaction.

Contact us to learn more about our laminate flooring selection and installation services! We proudly serve customers in Appleton, Menasha, Neenah, Oshkosh, Fond du Lac, WI, and the surrounding areas.