Hardwood Flooring in Appleton, WI
Imagine walking into your home and feeling at ease with the warm atmosphere you have created by installing new hardwood floors. D&M Interiors is proud to offer a stunning collection of hardwood flooring in Appleton, WI, that are guaranteed to create the perfect ambiance for your home. Our local flooring store carries every type of wood flooring, including engineered and solid planks. With numerous options of flooring styles available at affordable prices, you are sure to find the ideal look for your home or business. Trust the flooring specialists on our team to help you find the floors that meet all of your needs in style, price, and performance.
At D&M Interiors, we have high standards of customer service. Our flooring specialists are available for in-home consultations concerning your purchase. Seeing the space where the flooring will be installed helps our experts direct you toward the right decision. The décor of your home, the natural lighting in your rooms, and your family's needs will direct us toward the perfect solution for your unique floor remodeling project. We take your satisfaction seriously and our goal is to help you find the best hardwood flooring for your home. Visit our Appleton, Wisconsin, showroom today to get started!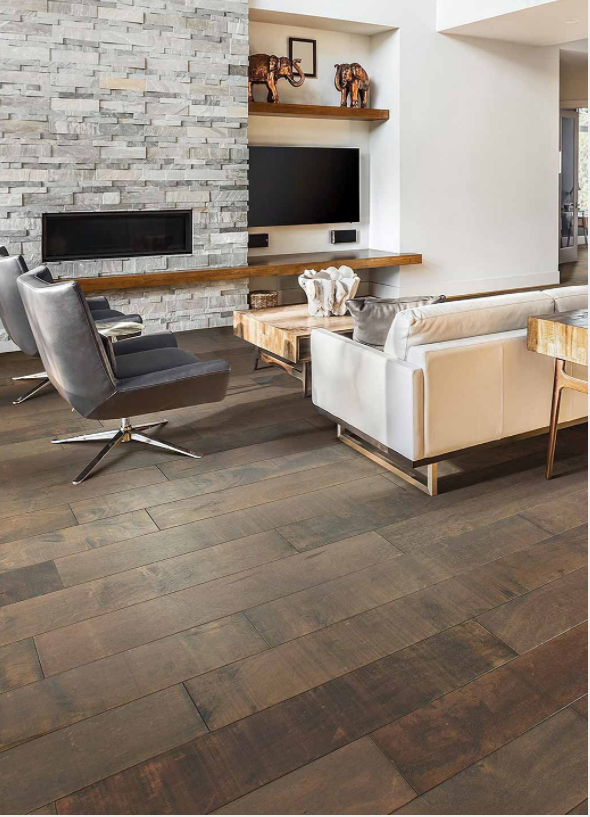 Discover the Types of Hardwood Flooring Available
Our flooring store carries many types of wood floors. In addition to trendy hand-scraped hardwoods, we carry both solid and engineered wood flooring. We want you to have access to numerous options so you can feel confident about your final choice. No matter the style of hardwood you choose, this transformative update will truly define the character of your home. Some of the wood flooring species we regularly recommend for our clients include Acacia, Cherry, Hickory, Walnut, Maple, Oak, Pecan, Pine, Red Oak, and Birch. Learn about the difference between solid and engineered wood flooring:
Solid Wood: The most well-known hardwood flooring style is solid wood flooring. This is flooring made from one solid plank of wood from various species. Solid wood floors are a charming flooring option that brings you a unique look because you can choose its cut, size, tone, grain patterns, and installation pattern. Further, this long-lasting investment can last for generations and be refinished over its lifespan.
Engineered Wood: These real wood floors have an authentic top layer of a solid wood plank, but the core layers are made from a more stable compressed wood core. This style is less susceptible to expansion and contraction caused by humidity. In addition, it prevents the need for large amounts of rarer wood species used in the veneer layer, making it an eco-friendly alternative to other types of wood floors.
Why Appleton, WI, Customers Love Hardwood Flooring
Hardwood flooring is a popular flooring choice among our Wisconsin customers for its variety of advantages in both style and performance. At D&M Interiors, we make a point to offer sought-after hardwood flooring brands including Aquadura H2O, Downs, and Floorcraft. Discover all the benefits of choosing hardwood for your Appleton, WI, property:
Increases property value.
Long-lasting with proper upkeep and care.
Versatility in style for a one-of-a-kind interior design.
Improved durability, even in Appleton's seasonal shifts.
Enjoy Easy Hardwood Upkeep and Maintenance
Hardwood floors have numerous advantages, ranging from natural aesthetics to increased long-term value, but arguably the most important benefit is their simplicity of upkeep. Our Wisconsin customers are surprised at how easy it is to keep hardwood floors clean. Your floors will look brand new for years when you follow our easy hardwood flooring care tips:
Regularly sweep or vacuum to remove daily dirt buildup.
Promptly wipe away spills or accidents with a damp cloth.
To maintain its beautiful appearance, your wood floor should be wiped with a damp mop and a warranty-certified cleaner.
For extra shine, occasionally apply wood polish to refresh the look of your floors.
Our team is also happy to recommend products and wood polishes to give your floors some extra shine every few months.
Protect Your Investment with our Professional Hardwood Flooring Installations
The style and character of every room begins from the ground up. One of the best investments you can make in your home is upgrading your flooring by purchasing engineered or solid hardwood. Our meticulous professionals finish the job with a hardwood flooring installation that's guaranteed to last. Our experts have years of experience to deliver a swift, precise, and even artful installation.
By allowing us to install your purchase, you can rest easy knowing your investment is protected with our Ultimate Confidence Guarantee. This guarantees that if you have any installation-related issues, you can contact us within 30 days and we will make it right at our own expense. Learn more about our installation process when you visit our Appleton, Wisconsin, hardwood flooring store!
Contact us today to book your free in-home estimate for hardwood flooring! We serve the communities of Appleton, Menasha, Kaukauna, Neenah, and Green Bay, Wisconsin, plus the surrounding areas.