Stunning Ceramic Tile Flooring in Appleton, WI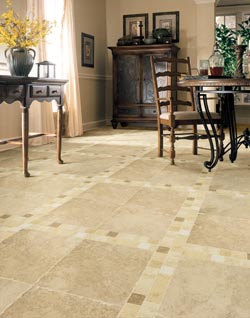 At D & M Interiors, we strive to deliver the best in surface solutions for our customers. If you're looking for a way to give your home a touch of elegance that requires very little maintenance, then you should consider our ceramic tile flooring in Appleton, WI. Well-known for being one of the most durable flooring options, you can count on its longevity to withstand the pressure of your home's high-traffic areas.
Plus, it offers a versatile and unique style that perfects any polished décor design. At our showroom, you can see this premium material in action under real, home-like lighting and explore some of the industry's most trusted brands. We carry options like:
When you're ready to upgrade your home's flooring, enjoy low-maintenance beauty that can be sufficiently cleaned with soap and water in the event of any spill. With a tile installation, you get customizable appeal without excessive upkeep. Choose your color, size, pattern, and style from the best manufacturers working today and see why so many homeowners fall in love with simple ceramic solutions.
Tailored Tile for Your Home
Your space is a reflection of your unique personality. It should show off what makes your style special. With our ceramic tile, you get to choose every aspect of your new floor's design. From adding modern flair to a traditional home to providing the perfect solution for custom construction, this surface gives you more freedom to create your way.
All of the stunning tile flooring options we provide have the same easy-to-clean durability, and our design experts are available to help match you with the tiles that best suit your home design goals. From subdued colors to bold designs and everything in between, our products boost your home's value and appeal with lasting beauty, sophistication, and luxury that doesn't fade over time. With routine maintenance, your floors will look just as good years from now as they do on the day you have them installed.
Installation Made Easy
Our team believes in a hassle-free experience. That's why we help customers set up a professional tile flooring installation. By relying on experts in the craft, you get better results and the ability to relax while trusted installers handle the hard work. We take care of all the details necessary to schedule the service. Let us help you enjoy a great-looking new floor faster--no stress or complicated third-party process required.
Contact us to learn more about the advantages of ceramic tile. We proudly serve Appleton, WI, and the surrounding areas.