Carpet in Appleton, WI
When the cold weather arrives and the days become shorter, there is no greater comfort than stepping into a cozy atmosphere with plush carpet underfoot!
Elevate any space with new carpets from D&M Interiors in Appleton, Wisconsin. Our local carpet store welcomes you to explore material samples at your convenience. Whether you prefer Berber, Saxony, or any other carpet type, our specialized flooring shop offers a wide array to meet your specific needs. Our carpets feature an extensive selection of colors, patterns, and fiber types, including cut-loop, loop pile, multi-loop, and level loop.
At D&M Interiors, our primary focus is ensuring customer satisfaction. With the advantage of our nationwide network of 500 stores, we proudly offer the area's largest flooring inventory, guaranteeing competitive prices compared to other big-box flooring retailers. Visit our Appleton, WI, showroom to meet with our helpful team and discover why we are the area's premier flooring provider!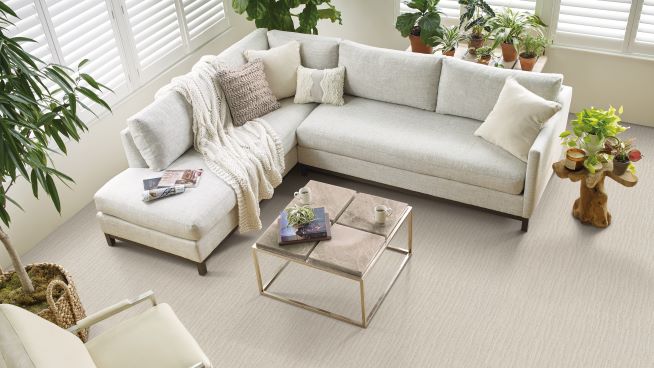 Find Diverse Carpet Types
We take pride in our diverse selection of carpet materials, featuring both contemporary and classic styles. Among our Appleton customers, the latest trends encompass multi-tonal carpets with flecked patterns and refreshing, lighter color palettes. For bedrooms and living rooms, nylon plush carpets are a favored choice, while smaller geometric patterns are ideal for stairways and family rooms.
Explore the types of carpet available at our Appleton showroom:
Frieze Carpet
Frieze carpet is extraordinarily plush and is made from a cut-pile construction. Well known for its ability to camouflage dirt and stains, this carpet type is one of the softest to the touch. Frieze offers a knotted appearance that creates a textured aesthetic to any area while merging colors and patterns.
Loop & Cut Loop Carpet
Loop carpet has a surface comprised of uncut loop fibers. With an even surface height, a level-loop carpet can be woven or tufted.
Additionally, a multi-loop carpet has two or three different pile heights giving a more staggered look. These carpets have a casual look that can easily hide foot imprints.
Cut-loop carpet, on the other hand, is made precisely as it sounds. The fibers of this carpet type are cut straight, giving it a snag-free consistency that is popular among those who have children, dogs, and cats.
Patterned Carpet
Patterned carpets are made using the same methods as printing paper. Flatbed screen printing, rotary screen printing, Stalwart printing, and sophisticated computer-programmed jet printing are some of the design processes used. Contemporary style guides and 5-star hotels are known to flaunt the beautiful patterns that can be achieved with this carpet type.
Saxony & Textured Saxony Carpet
Saxony carpets are cut-pile carpets that can add a touch of luxury to any room in your home. Saxony-type patterns are resistant to wear, shading, and traffic marks in your home. Textured Saxony uses the same fiber types, though they've been twisted in different directions to offer a coarser appearance.
Berber Carpet
Berber carpet is typically associated with lighter colors that have been flecked with darker shades. Berber is a go-to floor for high-traffic areas in the home thanks to its natural resilience and ability to hide soil. Berber carpet is often made with a loop-style cut and is one of the most popular carpet items on the market today.
Where Can I Install Carpet?
If you're looking to install new carpet in one room, a small area, or even a whole floor of your house, our team of in-store associates and professional installers have you covered. We have worked on carpet renovation projects for residential remodels, new construction including custom and spec homes, and commercial buildings including manufacturing facilities, apartment complexes, offices, schools, restaurants, car dealerships, and more!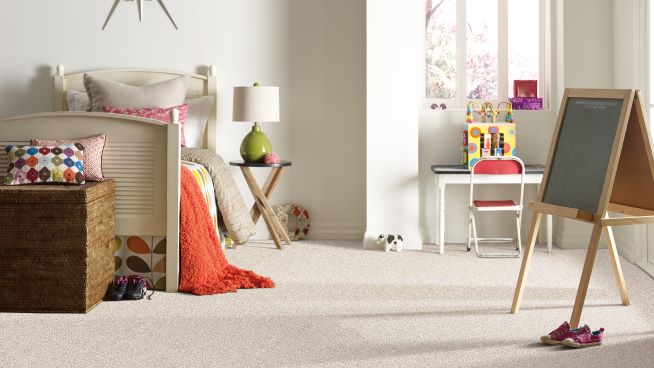 What Are The Benefits of Carpet?
Carpet advantages are endless as a highly practical flooring solution with ample design potential. When you browse our online catalog or shop in-store, you'll find industry-leading carpet brands like Karastan. Learn more about the many benefits of choosing carpet as your flooring solution for a home remodel:
Carpet is the most comfortable surface to walk and lounge on.
The thick fibers provide additional insulation for heating during the winter months and a modern but cozy appearance.
Slippage is rarely an issue when you invest in carpet over stairs, tile, hardwood, or similar hard surfaces.
Our carpets are manufactured by high-quality providers, allowing resistance to water and stains for worry-free living.
Low-maintenance carpets only require regular vacuuming and annual professional carpet cleanings. Ask about our in-home carpet cleaning services!
Professional Carpet Installation Services
To get the most from your new carpet, allow us to handle the installation process. We have experienced technicians with the skills and equipment to efficiently upgrade your floor with accuracy. The surface of your new carpet will be perfectly level, and the edges will fit the perimeter of the room seamlessly. We securely stretch and install the carpet and carpet padding to maximize its longevity. Our promise to quality is backed by our Adore Your Floor Guarantee, allowing you to contact us within 30 days if you find yourself unhappy with our work. We will gladly replace your floors with a similar model, free of charge.
Contact us today to begin browsing our many luxurious carpet choices! We proudly serve customers in Appleton, Menasha, Neenah, Oshkosh, and Fond du Lac, WI.