Design Trends and Inspiration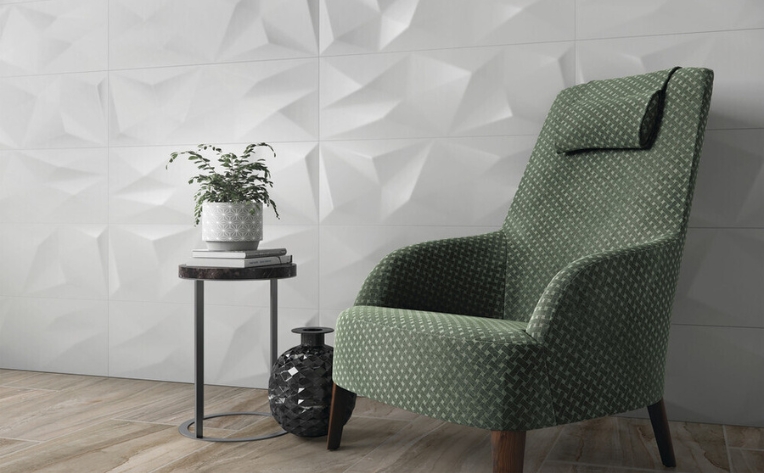 Aug 18, 2022
Historic Res Tile in Niagra by Daltile
1. Make it look cohesive
After so many years in your home and different needs arising at various stages in your life, your home can end up looking like a hodgepodge of styles. Create a cohesive look by updating items like your doorknobs, cabinet handles, electric outlet covers, shades, and more throughout your home. This simple yet effective step can help strengthen your home's personality and give it that pristine, new feel.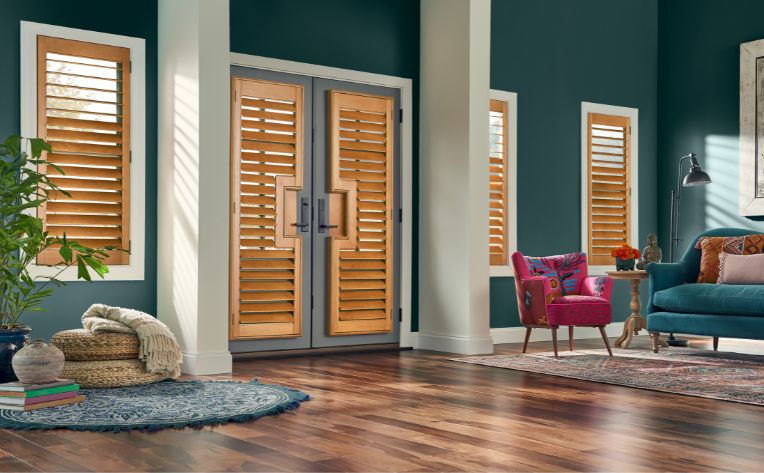 Wood Shutters by Graber
2. Get a new paint job
Whether your home exterior looks eroded from an array of outside elements or if your interior looks dated and faded, a new coat of paint is the perfect remedy. This is an easy way to freshen up your home and achieve that modern look. Some modern paint trends for your home include:
Bold, dark trim and unique materials for your exterior
All-white kitchen or entryway
Statement color in your living room, such as emerald green or dusty rose
Vibrant and brightly painted front doors
If you are refreshing the paint inside of your home, read this blog post for guidance on how to ensure that the new color you choose doesn't clash with your existing floors.

3. Go with hardwood
With many home designs electing an open floor plan, there's desire to have a consistent look. We recommend opting for hardwood or a hardwood-look. This simple flooring looks phenomenal with a variety of different modern décor styles and since it's naturally durable and timeless, it guarantees a classic look that will never go out of style. Reimagine your flooring with hardwood by using our floor visualizer tool to get a better sense of how it would look in your home.
4. Upcycle furniture
As mentioned, vintage is in, in part because of the phenomenon of fast furniture. You may have heard of "fast fashion," which is cheaply made trending clothing that isn't meant to be worn more than a handful of times. Similarly, fast furniture is cheaply made, likely to show wear and tear quickly, and is not meant to withstand the test of time.
This has caused the upcycling furniture trend, which utilizes dated but durable furniture in DIY projects to make it work for your modern home. Not only does this leave you with sturdy furnishings, but it is also sustainable and good for the environment. Plus, the amount of fulfillment and satisfaction you'll get when you look at your upcycled furniture, knowing that you've created it and tied it in seamlessly with your room, will be tremendous! Head to your local consignment shop or thrift store to find a piece to refurbish. Feel free to also browse Pinterest for some inspiration for your DIY project. Be mindful of potential scuffs and scratches on your floors when bringing in new furniture. Read more about how to protect them here.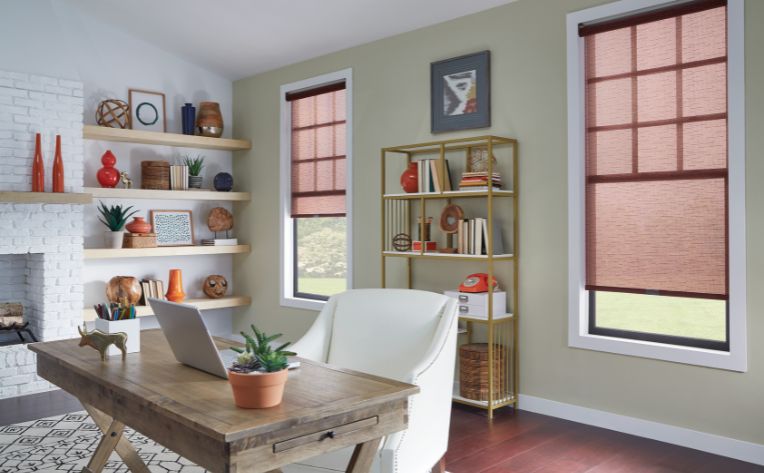 Solar Shades by Graber
5. Overhaul your decorations
Sit back, gaze upon your walls and shelves, and ask yourself, when was the last time you changed out the artwork in your frames or updated your collection of various trinkets? If your decorations have traveled with you from apartment to apartment, house to house, chances are you may want to update them. We recommend visiting one of your local farmers' markets or local boutiques and purchasing art and décor from a local artist. This is the best of both worlds, as you'll get a piece that is unique and fits your style best. Plus, you'll be supporting small businesses. Remember, less is more modern, so you should try to gravitate toward statement pieces and consider layering different textures and materials.
6. Integrate technology
Nothing says "modern home" like heated floors or a smart fridge. There are countless home technology trends meant to make your life easier and fast-track your home to the 21st century.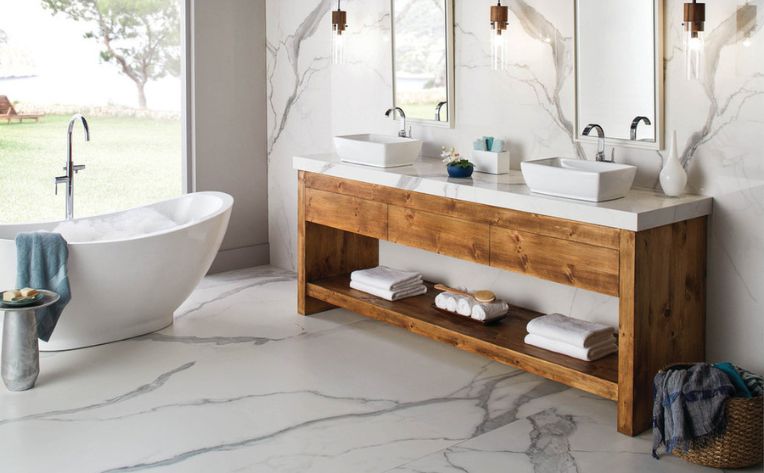 Statuario Res Tile by Daltile
7. Get expert opinions
It may seem like you have an overwhelming number of options to consider when choosing how to update your home. Chat with a professional and search online for respected industry leaders to get valuable input before purchasing. Read other blog posts for more inspiration on this topic, or find your local Flooring America to learn more about your options for making your home modern.
Continue Reading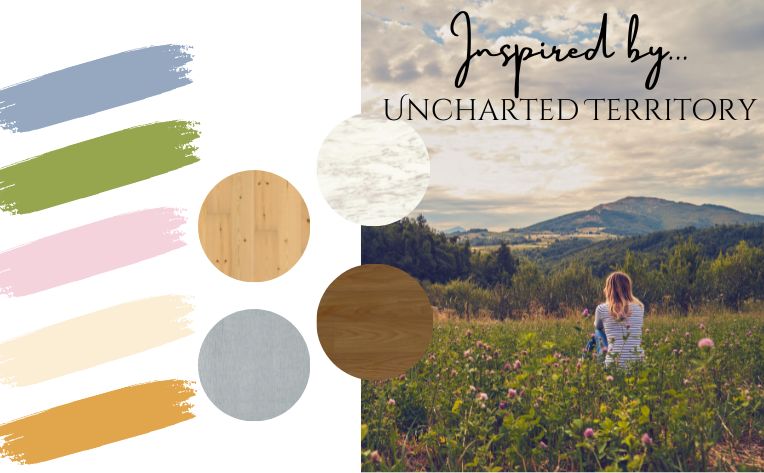 Aug 15, 2022
If you've been resisting the call of the wild, now is the perfect time to get out of your comfort zone and get inspired by the great outdoors. People say to find yourself, you first must get lost; and what better way to get lost than to immerse yourself in natural beauty and summer sunshine. Allow the wildflowers blowing in the breeze and the mystery and majesty of the mountains and forests to re-energize your creative spirit and the interior spaces you love.
Summer Color Palettes.
This summer, we've created a beautiful colorway full of bright, adventure-inspiring hues in a range of colors. Taking inspiration from the rolling hills and blooming wildflowers that share their beauty all season long, we've paired a cool sky blue and grassy green with brighter, floral shades of pink, cream and gold. Any of these nature-inspired summer colors work to brighten up your space this season and make the perfect accents to a home that is otherwise clad in neutral tones. For a more natural look, consider blues and greens reminiscent of the perfect summer day, or go bold with hints of Rose Garden pink or Mayan gold to create a dreamy, summer sunset right inside your home.
Stunning Summer Flooring.
Nothing says summer quite like a light & bright color palette. Our stylish summer flooring picks are all inspired by the light and airy feel of a summer evening, that warm July breeze on your cheek as you're filled with a wanderlust only this time of year can bring. With this in mind, we gathered our favorite durable flooring choices that perfectly complement our summer colorway to help you create the seasonal interior of your dreams.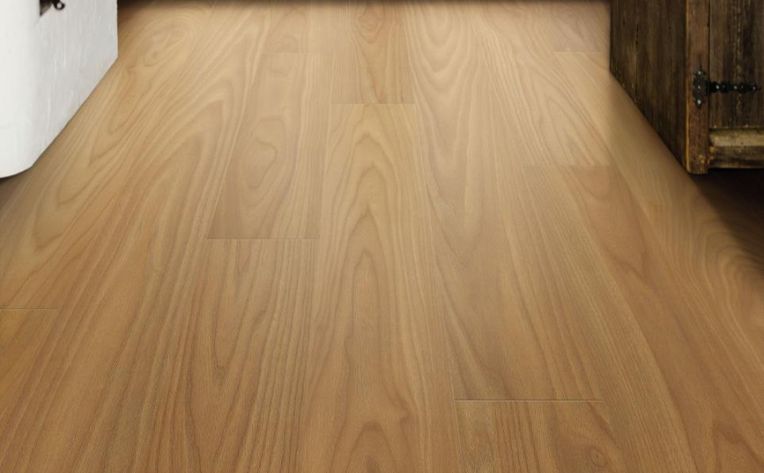 Willowby Lane Vinyl Plank by Galvanite PetTech
A natural wood appearing floor is perfect for the summer, and this vinyl plank flooring from Galvanite PetTech is just the product for it. Not only does this durable vinyl flooring have high-definition embossing to create a true-to-life wood look, but it is also crafted with a waterproof core and comes with a scratch-proof, thermo-resin topcoat; making it great for combatting the heat and humidity that summer always brings.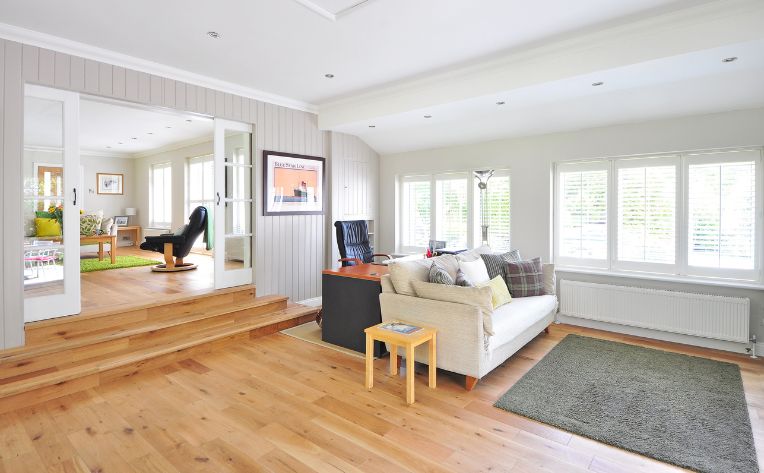 If you're not sold on vinyl flooring and want a true, genuine wood floor, try our hickory hardwood flooring from Downs. The light, sandy color of the wood makes it perfect for creating a light, airy feel in your space that shines in the summer and won't look out of place throughout the rest of the year. This flooring features wider planks and a distressed surface, which helps to make your space feel larger than it is and brings a homey, lived-in atmosphere.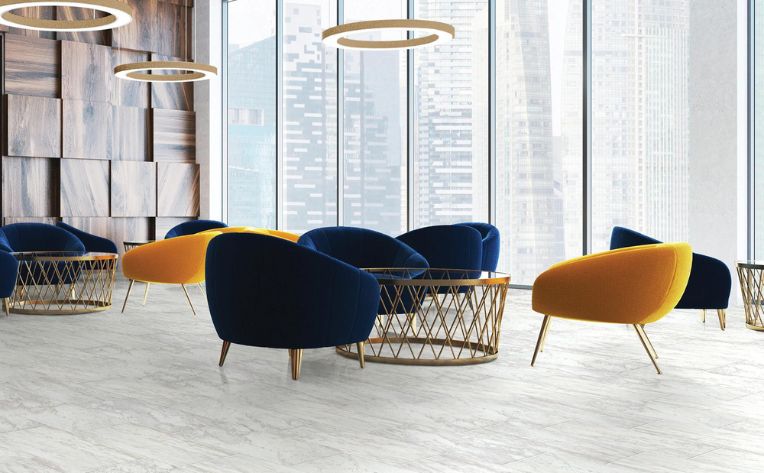 If wood floors aren't your cup of tea but you still want something durable, consider a ceramic or porcelain tile, like this Revo tile by Floorcraft. Not only is this stunning tile reminiscent of a cloudy summer sky, it's also waterproof, stainproof, dentproof, and scratch and slip resistant – the perfect choice for a household with kids or pets. Or, for those that simply live a busy lifestyle and don't want to worry.
Comfort is key, and even in the summertime, there is no floor quite as soft and comforting underfoot as carpet. Invest in our Undercliff Drive carpet by Innovia Touch, a cut-and-loop carpet that's made with especially fine fibers. This carpet is ultra-soft, and comes with special fiber casings that repel liquids and soil, making dirt and spills easy to clean up. While this carpet comes in a wide variety of shades, we recommend a lighter color, such as the stunning Open Air blue, for a true summer feel.
Summer Design Inspo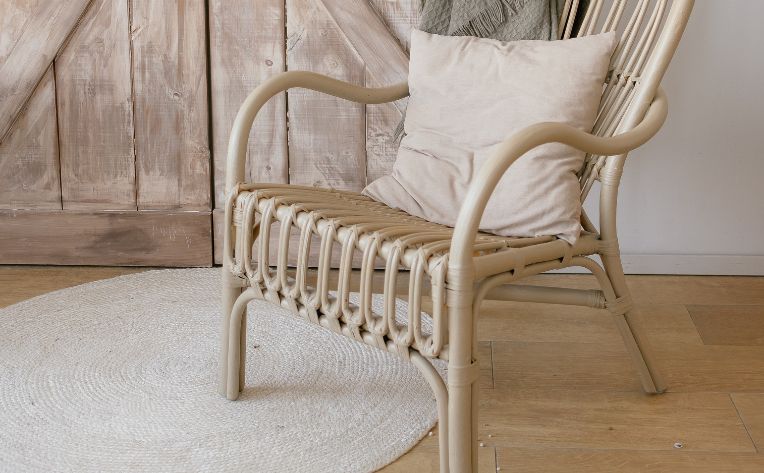 Aside from updating your home flooring, there are plenty of ways to add some summer to your home design. Materials like wicker and jute practically scream beachy and do a fine job of bringing that vibe to your space, regardless of your proximity to the coast. Especially when paired with a lighter, neutral color palette and living plants, this natural material will have you dreaming of summer all year long.
And as if this wasn't enough to inspire, you can continue to discover more color palettes and design inspiration perfect for the season in our summer edition of Design at Home. Plus, keep up to date on all the latest design and flooring trends by visiting our blog.
Continue Reading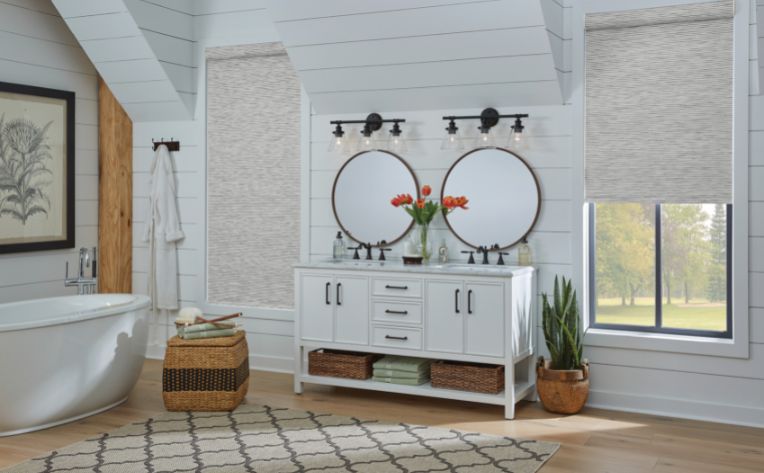 Aug 11, 2022
What do you enjoy more, feeling the morning breeze as you stroll around your block or falling back into bed for one last cuddle with your ultra-fluffy Siberian? How do you choose between an afternoon picnic at the park or binge-watching your favorite Netflix show in your living room?
Why choose at all when you can have both! If you enjoy activities inside and out, there is no reason you can't have the best of both worlds. Introducing natural elements into your home can be a simple solution to create a calming atmosphere in your home that will leave you never wanting to leave. Below are some ways to achieve this.
1. Crack a window
This is a simple, no-brainer, no-hassle way to bring a natural feel into your home. Bask in the sunshine while also enjoying the perks of natural AC. If the weather is too cold or too hot even with the window open, consider purchasing sheer curtains and raising the blinds. No matter what, make sure your windows have screen covers before opening them. After all, you don't want to let too much of the outside in.
2. Plants
There are several different options when it comes to bringing greenery into your home. You could choose to go with a combination of the following:
Bypass calling your neighbors to take care of your plants when you are out of town. You can go with fake plants if you want something with almost no responsibility, but you will want to make sure to dust them regularly.
Become an official plant mom or dad! There are so many different kinds of plants that vary in look, size, and the amount of water and sunlight needed, so it's almost guaranteed that there will be one that is right for you and your home. That being said, there are some precautions you will want to take to protect your floors from potential damage from indoor plants. You can learn more about that here.
If plastic plants aren't your vibe and you don't want to commit to caring for a real plant, put out your favorite vases and fill them with the flowers of your choosing. This way, you can change up the look and feel of a room regularly by switching the type and color of the flowers.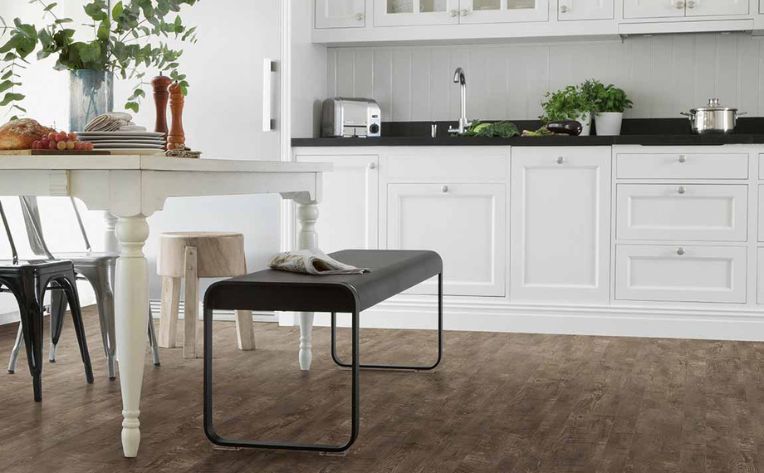 3. Natural flooring
Forgo grass and dirt; stay inside with natural flooring that provides comfort for your feet and is easy on the eyes.
From the entry room to the bathroom, stone flooring can give your room an elevated, natural feel. The organic texture and color of stone, as well as its inherent durability, make it an ideal choice for natural flooring.
While there are now artificial versions of it, hardwood flooring is also a great option for natural flooring. It goes well in any room and complements your interior design rather than overpowering it.
Purchase eco-friendly floors that are sustainably made through recycled materials or renewable resources. This is a surefire way to add natural elements into your home while also appreciating nature by protecting it. Check out our large array of eco-friendly flooring options that are well-suited for your home.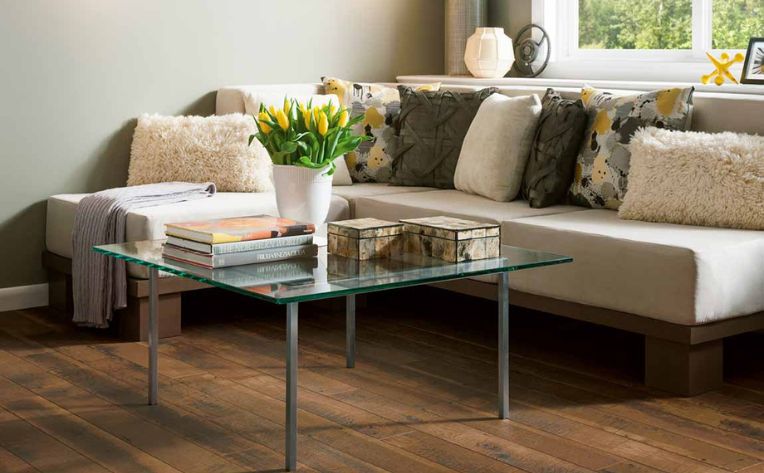 4. Earthy color scheme
Natural elements are not limited to things found in nature; they can be added just by incorporating more green and brown shades into your home. We recommend searching different earth color palettes on Pinterest until you find one tailored to both your taste and your home. From there, get knickknacks and furniture that matches the colors you love and enjoy the environment you make.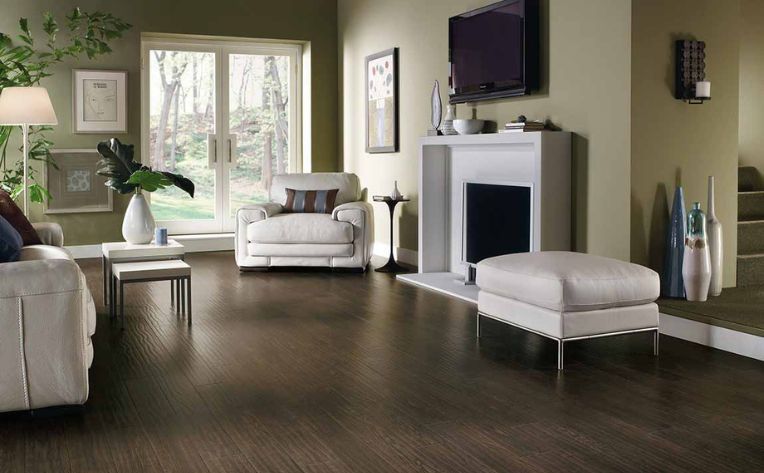 Naturally, there are many ways to add natural elements to your home. If you want even more inspiration, read our blog post on different types of natural materials and home decor. Or find your local Flooring America to consult with an expert and seamlessly integrate natural elements.
Continue Reading
Aug 01, 2022
The memories you will make around your fireplace with loved ones are special, unique, and everlasting. Make sure your fireplace design is equally so. Ditch the classic fireplace look and consider tile. This versatile material can be a game changer in transforming and freshening up your fireplace. With a beautiful tile fireplace, you'll be tempted to light a fire even in the height of summer. Let's take a deeper dive into exploring fireplace tile.
Choosing the type of tile to use for your fireplace is not an in-the-heat-of-the-moment decision. First, you'll need to consider the different components of a fireplace where you can install tile.
The firebox is the most important part of a fireplace; after all, it is where the fire itself takes place.
The hearth is the floor area that is positioned in front of the firebox on the floor.
The surround is comprised of everything else that surrounds the firebox, hence its name. This also includes the mantel.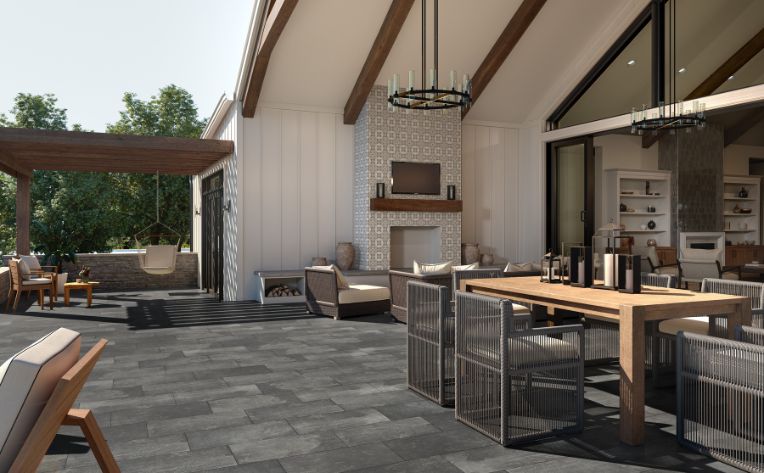 Once that's settled, you'll need to decide on the type of tile you want. There are three main types of tile: porcelain, stone, and ceramic.
Porcelain tile is extremely popular and comes in a large variety of colors and patterns, guaranteeing that there is an option that'll work with your home. It's durable, easy to clean, and has a great track record of withstanding high temperatures.
Stone tile can give you that traditional look but in a new, exciting way. This durable, easy to clean, and heat-resistant option includes natural stones like marble and granite, which can give your fireplace a classic, elevated vibe.
Ceramic tile is another great option. However, you'll need to make sure to get a thick slab, as it can crack under the heat of the flames. That being said, if you're able to buy a thicker slab, it's easy to clean and comes in a large variety of colors and patterns.
Now it's time for the fun part—choosing your fireplace tile look! Here are five tile trends to consider for your fireplace that won't burn a hole in your wallet.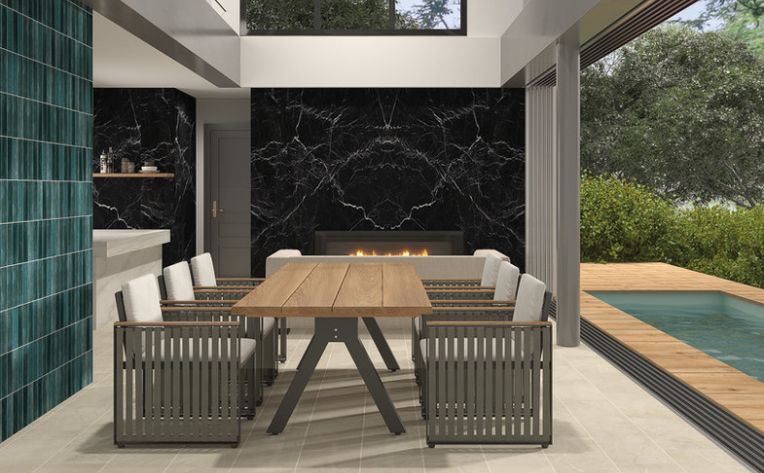 1. Contrasting Color Tile/Grout
Using both black and white tile and grout is a great way to make your fireplace a statement piece in your home. This is a classic look that stands out while not overpowering the room. Another popular contrasting color option is blue and white—if it fits the existing color scheme of the room. Additionally (and especially if you go with the contrasting grout option), you can get uniquely shaped and sized tiles that will diversify your fireplace look and feel.
2. All-White Tile
This seemingly neutral option is anything but. This sleek look can give off a variety of vibes. For example, you can opt for the NYC subway feel when you choose glossy, rectangular-shaped tile and white grout. Or go more modern with a white penny-tile design or another micro-tile shape. If modern doesn't appeal to your taste, no worries; embrace the vintage look of traditional white tile squares. Needless to say, there are quite a few options when it comes to all-white tile, all of which have the potential to look fabulous in your home.
3. Bold Color
An obvious solution to having a standout fireplace is to go with not only a unique material but also a bold color. Consider colors such as royal blue, emerald, or a deep shade of purple. You'll want to be aware of where the color will pull your eyes when you first enter the room and how it will compete with or complement other colors in the space.
4. Patterned Tile
Mosaic tiles are a gorgeous option for your fireplace. They also can add more depth and texture to your room. If you go with a super-loud print, we recommend using bigger slabs of tile, so there is less breakup in the print. If you want to do something simpler than that, go with colorful, smaller-sized tiles. Some popular patterned tile designs include chevron, star prints, and decorative.
5. Stone Tile
This durable option has so much variety. From natural stone types, like granite and marble, to more unknown kinds like red herringbone, you can make it look as regular or as rugged as you desire by choosing the right shape. You can opt for bigger circular stones to add a layered texture or stick with smooth stones for a more modern look.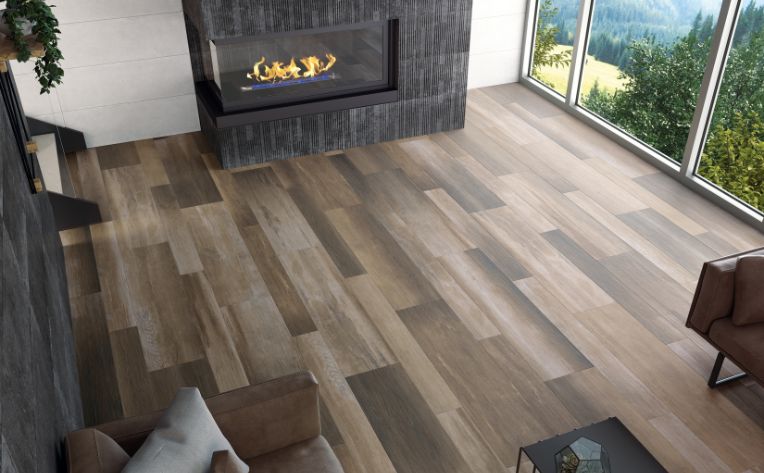 No matter what type of tile you go with, installing tile for your fireplace is not going to be a quick, afternoon DIY project. Consult with an expert to make sure it's done right so you can lovingly gaze at your fireplace tile for years to come. Contact us and find your local Flooring America to ensure that your fireplace renovation goes smoothly.
Continue Reading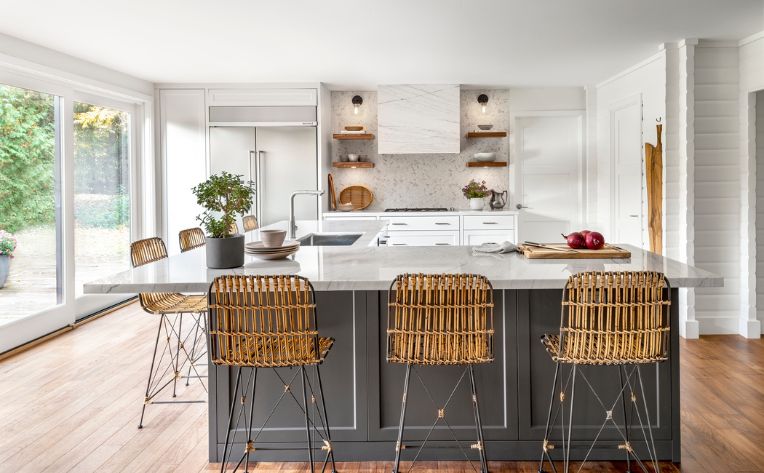 Aug 01, 2022
Photography by Gillian Jackson
Written by Laura Hay
The cottage is the epitome of a "great escape." It's become the North American dream: a getaway from the everyday, a retreat to relaxation and recreation, and a return to nature and a simpler way of life. It's a place to unplug, unwind, and put your feet up. Oftentimes, that wooded, waterfront, or countryside haven is miles from home. But what if your great escape is in the urban jungle?
Leave your worries at the door. You too can achieve sweet serenity with cottage house plans, regardless of your physical location. Whether you're building a brand-new home, renovating an existing one, or redecorating a room, here are some of my favorite ways to bring that coveted cottage lifestyle a little closer to home.
Country Cottage Materials
Materials are an effective way of expressing this distinctive style. In this case, I like using cottage-inspired elements that come directly from nature, such as natural wood, raw stone, and organic textiles like linen, cotton, and wool. These materials often evoke strong emotions that draw many to this decorating style—namely feelings of being cozy, relaxed, comfortable, and welcomed.
Wood floors are a common characteristic of cottage style homes—informal and perfectly imperfect. Conveying a message of "No, don't take your shoes off—just come on in," wood floors seem to beckon to arriving residents and guests. All it takes is a sweep and occasional polish to bring them back to their original glory. You can amp up the rustic casual aesthetic charm by selecting a wide plank floor. Reclaimed species like hemlock and pine are beautiful. For new solid and engineered hardwood, European white oak is my top choice for its consistent grain and coloring, plus its wide range of stain options.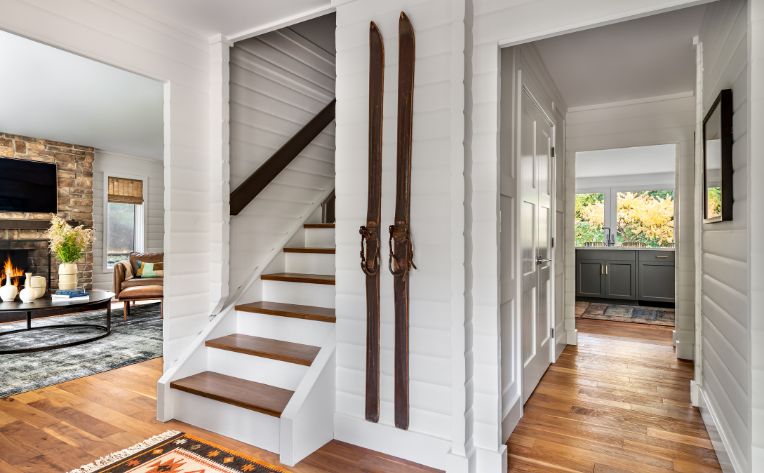 Photography by Gillian Jackson
Beadboard or shiplap wood panelling are common finishing options for cottage style walls and ceilings. To avoid being swallowed up by a uniform wood finish, which can leave you feeling closed in, consider painting the shiplap or beadboard in a fresh hue that complements the natural wood in the space. Washed wood can also be incorporated to create a cozy, cabin-inspired look and feel.
TIP: Wood furniture is the obvious choice for a cottage-style home, solidifying a relationship to nature and suggesting warmth and history through every dent and ding, which are not only accepted but welcomed. However, it's not the only option. Achieve an eclectic, "collected" vibe by incorporating a few painted pieces, whether metal or glass.
What are the elements of cottage décor?
Yes, decor is less of an investment than built-in items, but don't discount its power or value. Accessories, art, accents—it's these seemingly small, individual elements that combine to achieve a greater whole and the carefully considered cottage vibe that, if done right, comes off as completely carefree.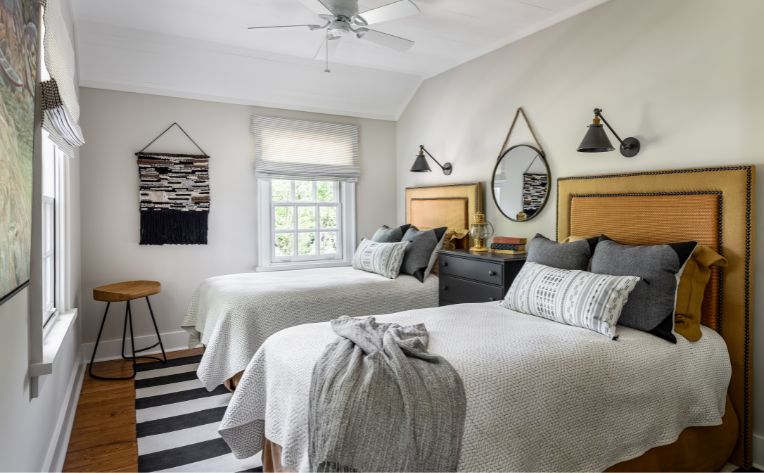 Photography by Gillian Jackson
Having many cottage house designs under my belt, I can attest that a coat of paint can go a long way. When designing cottages (whether actual ones or homes inspired by them), I often complement the space by choosing organic materials with a nature-inspired color palette. Whites, off-whites, and soft creams are the perfect base for that relaxed, rustic style that's so popular. And with new trending hues for 2022, the move toward gentle green tones seems practically tailored to this cottage aesthetic—a perfect color to solidify one's connection to nature.
Underfoot, rugs bring warmth to bare feet and to the broader mood in the home. Source a vintage, "second-life" rug; a fun braided style; or a flat-weave. Even very traditional styles featured in casual settings can gain new life and renewed appreciation.
Last but not least, try incorporating some "authentic" or fun accents to underpin the "cottage" vibe and look. For example, find a vintage painting or a pair of antique skis or snowshoes to mount above the fireplace. Throw blankets, baskets, and unusual found objects or antiques are all wonderful additions. Use them to highlight focal points in the space, such as a window, fireplace, or entertaining area.
Focal Points in Cottage Houses
Although every home is different, many share two common focal points: the fireplace and the kitchen. But not all fireplaces and kitchens are created equal, and yours may need to be "country-fied" to suit your intended country cottage aesthetic.
Even in an urban setting, you can enhance a home's cabin appeal by focusing some attention on the fireplace. Start by upgrading the unit itself. Depending on your budget and inclination to redecorate or renovate, you can replace your fireplace or give your existing one a fresh coat of paint and perhaps a new mantle in a warm wood finish Then, bring focus to your new fireplace by positioning your furniture around it. Highlight it with dedicated lighting or a great piece of art.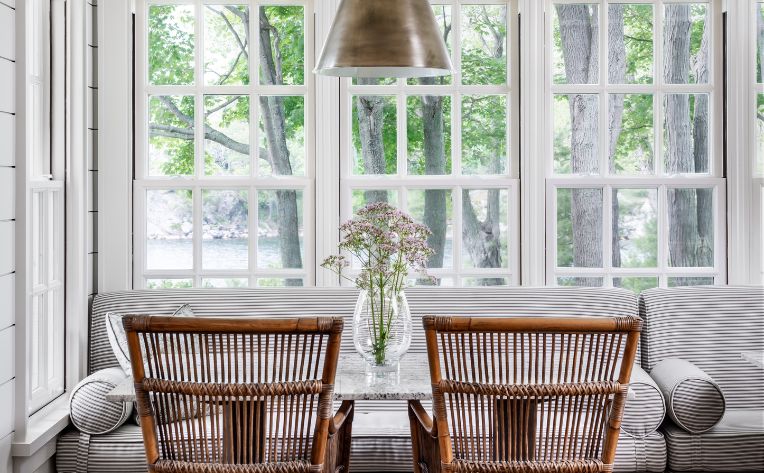 Photography by Gillian Jackson
The kitchen is another common focal point in many homes, particularly in small cottages designed for socializing and entertaining family and friends. Ensure the kitchen maintains a consistent atmosphere in line with the rest of the home, particularly if it is open to the main living and dining area. Thankfully, there are plenty of opportunities to put natural materials front and center.
We've already discussed hardwood flooring in the cottage, but it's worth mentioning again specifically in the kitchen. Run continuous hardwood floors through the entire home, including the kitchen. Doing this blurs the boundary between living areas and kitchen, making the entire space look larger and feel more cohesive.
Complement your wood floor with wood cabinets and an organic backsplash, such as natural stone tile or, if you're aiming for "cottage chic" (stress on chic), marble. Then draw the eye upward with open wood shelves that enhance the kitchen's function and style. Use these to store your frequently used cooking essentials so they're easily on hand or reserve these prime spots for a few thoughtfully chosen decorative items, such as handmade pottery and live plants.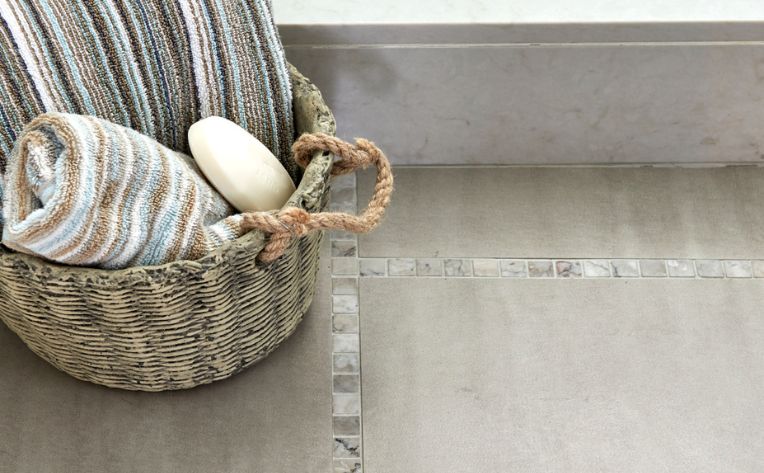 Photography by Stephani Buchman
Cottage chic may be an overused term, but there's a good reason people keep drifting toward this look, whether at their recreational property or principal residence. Much like the cottage lifestyle that inspires it, this decorating style is casual, comfortable, and carefree—and, in most cases, anything goes. At the end of the day, have fun and incorporate the materials, finishes, and pieces that inspire you to kick back and enjoy life. After all, this is meant to be your "great escape" from the daily grind and the stresses that come with it.
With some inspiration, aspiration, and design planning and strategy, you too can enjoy that beloved lakefront vibe regardless of your physical geography.
For more exclusive designer content, check out our latest issue of Design at Home magazine!
Continue Reading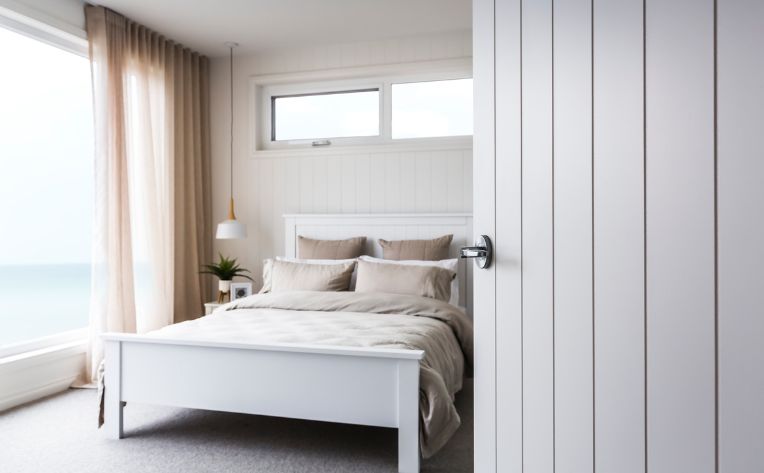 Jul 25, 2022
Airy, light, and beautiful, interiors designed to mimic the ocean and coastal landscapes bring a calming atmosphere to any home. There's nothing quite like a trip to the beach full of fun and sunshine, so why not bring some of those colorful memories home with you in your interior design? Take your inspiration from the blue coastal waters and the warm sunshine to create the ultimate oasis that is both comfortable and soothing.
Coastal-inspired design is known for its laid-back, chic look. It allows you to take the ambiance of a beautiful seaside retreat and bring it into your home through colors, textures, patterns, and designs. Neutral colors form the basis for this style with the occasional pop of a vibrant hue. Use this design style to bring comfort to your home that will always remind you of your most cherished summer moments.
Cozy carpets are a staple for any home with their design versatility and built-in comfort. And, what better way to bring the peace and tranquility of coastal waters to your home than by installing the most comfortable type of flooring? Even adding an area rug to your living room or bedroom can accent your decor with luxurious texture or bold patterns. Carpets and area rugs are the coziest of flooring types, offering natural cushiness that brings a sense of serenity to your home.
What Is the Softest Carpet Pile?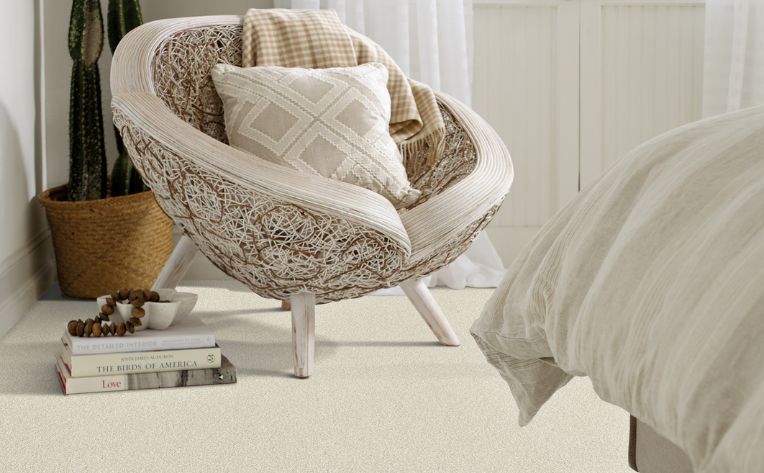 Underspin Plus in Gentle Touch by Tigressa
When you go on vacation to your favorite beach, you expect to be able to relax and have a good time. Why not bring that feeling home with you? The first step in creating a laid-back living space is to incorporate elements that offer comfort. You can do this by starting from the ground up and building a simple foundation. When you want to bring the sun-warmed sands into your space, consider starting with a beautiful new carpet. To create an informal, casual look with your carpet, you'll want to consider pile cut carpet in nylon, wool or polyester. You can do this by installing carpeting that offers a longer cut pile, such as a frieze carpet. Carpeting that is plush and textured can look as if it's emulating natural patterns like waves in the water or grooves in the sand, while also giving you that soft feeling to sink your feet into.
Coastal Area Rugs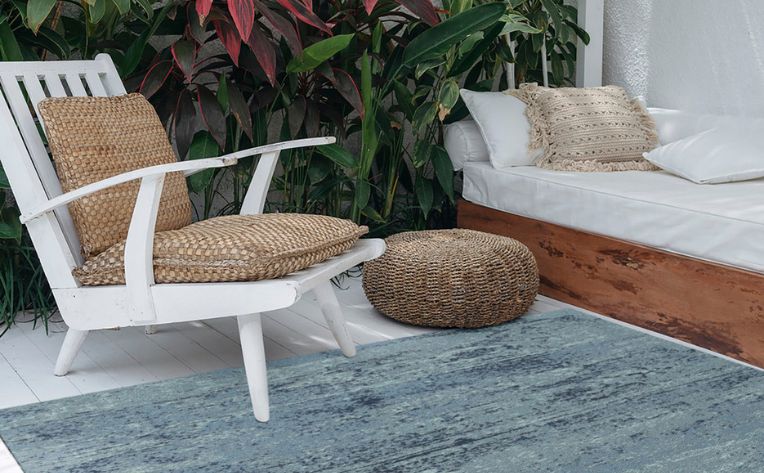 Santana Collection by Kaleen
Area rugs create another layer of color and texture in your home, and there are so many types to choose from! From colorful coastal rugs to accent runners and entryway rugs, you can't go wrong. Before selecting which area rug you want in your space, it is important to determine what size the rug should be. Consider the size of your space, the foot traffic in that space, and what type of activities will be taking place in the space where you're planning to install the area rug. Whether you're looking for an area rug for your bedroom, hallway, living room, or foyer, the selection is endless.
Infusing Coastal Blue and Golden Hues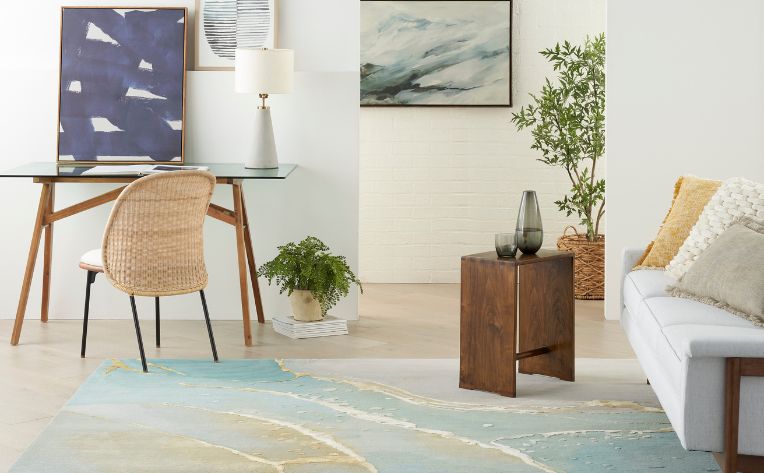 Prismatic Grey/Seafoam by Nourison
When you choose the right color carpet or area rug, you elevate the aesthetic of your whole space. When it comes to a coastal-themed color palette, choose calming hues inspired by sunny days spent at the shore so you can obtain that beachy feeling. Traditionally, soft beachy blues, deep sea navies, and warm sandy taupes have been used in many coastal designs.
If you are looking for a bolder approach, don't be afraid to add a pop of color. For example, if the color scheme in your home has mostly neutral colors, break them up by including a yellow or golden area rug in your space. This will add some color and brighten up your room! Other color choices that match the coastal theme are crisp white, seafoam green, coral pink, and turquoise blue. Regardless of your choice, the best color palette for beach-like flooring is typically light and calming with neutral tones and just a touch of darker hues.
Accenting with Patterns and Textures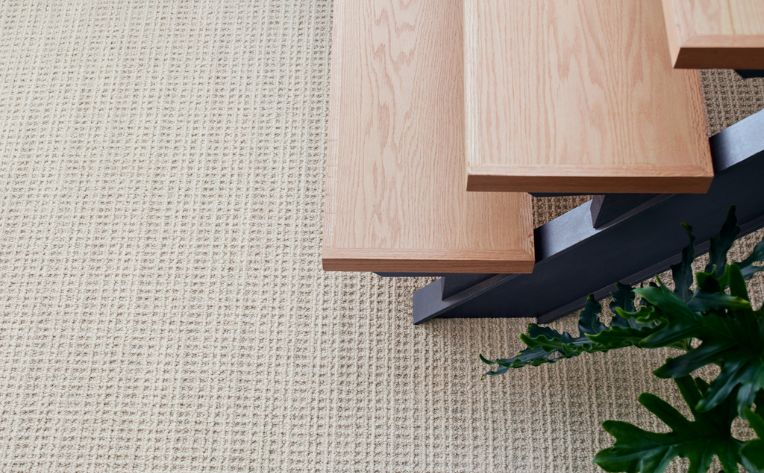 Moonlight in Reflection by Tigressa Cherish
Incorporating patterns and textures in your decorating scheme doesn't have to be intimidating. Generally, when layering patterns and textures, it is best to combine prints that are different colors or scales. Ideally, in most design spaces, the most prominent pattern in the room is typically an area rug that helps set the tone for the rest of the space and adds a layer of either a complementary or a contrasting pattern.
Because being at the beach is all about feeling the sand between your toes, it is important to consider the sensations you experience at the beach and try to apply them to the textures or patterns you add to your space. Bringing in bits of natural beauty can help you conceptualize a beach aesthetic in your home. For textures, consider woven area rugs made with natural fibers such as jute, sisal, cotton, and linen. Natural fibers will help create a beachier feel. For patterns, be sure to find textural ones that are visually appealing and bring your space to life. Nautical rugs with motifs like anchors, boats, waves, or palm fronds can be just the touch of texture your interior needs. If you're looking for something simpler or more subtle, consider stripes or chevron patterns in cheerful colors.
Continue Reading